Publications - Overview
The Treatment and Management of Chronic Myofascial Pain Release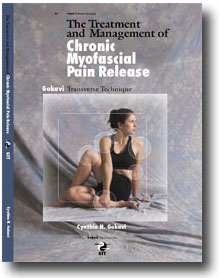 GTT Manual
Multimedia CD-ROM
The GTT Manual Package The Treatment and Management of Chronic Myofascial Pain Release: The Gokavi Transverse Technique is available for purchase and includes the complete, fully illustrated book as well as the GTT multimedia guide on CD-ROM. The package provides a detailed guide to application of the Gokavi Transverse Technique on all quadrants of the body.


The package includes:
The fully illustrated (100+ images) book which features:

Step-by-step, illustrated guide to examination and application of the GTT procedure on all quadrants of the body
Detailed consideration of materials required for the procedure
Precautionary measures and skills required
In-depth discussion of the mechanisms of pain



A Multimedia CD-ROM:

Macintosh and Windows compatible
Contains the entire GTT book in Adobe Acrobat PDF format
Contains more than 30 digital videos detailing the GTT procedure
If you would like more information about the package please contact us. Please click here for ordering information.