Cynthia Gokavi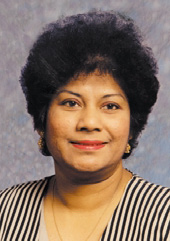 Cynthia N. Gokavi, M.B.B.S., C.A.F.C.I.
Cynthia Gokavi obtained her medical degree in 1971 from Gandhi Medical College in India.

Two years later she immigrated to Canada, where she practised as a family medicine physician for 13 years in North Battleford and Saskatoon (both in the province of Saskatchewan) before opening a full time private pain clinic. She works full time as the medical director of the clinic.

Cynthia Gokavi is the current president of the Acupuncture Foundation of Canada, and is on the teaching faculty of the Acupuncture Foundation of Canada Institute and the American Academy of Medical Acupuncture. She is the author of The Treatment and Management of Chronic Myofascial Pain Release, and is internationally active, training physicians, acupuncturists, physiotherapists, chiropractors, dentists, naturopaths and osteopaths in the Gokavi Transverse Technique.

The GTT seminars (including Cynthia Gokavi's book and CDROM) have been well received across Canada and internationally in the USA, Puerto Rico, Australia, and New Zealand. She has also been invited to teach her seminars in Singapore, India, and Europe. She has taught many health professionals how to incorporate GTT into their practices to enhance their clinical results.